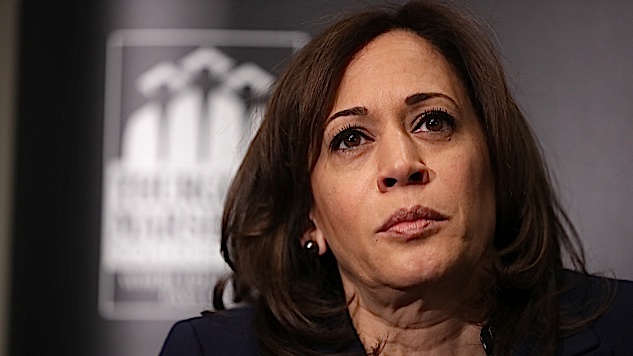 "They just started shooting everyone," a woman sobs. "They shot at little kids too." The video, from a July 21, 2012 report by CBS News affiliate KCAL, shows Anaheim police firing bean bag shotguns into a crowd of men, women, and young children that had gathered earlier in the day after one of the officers shot and killed an unarmed Latino man from the neighborhood during a chase. At one point, a police dog rushes into the fray.
At the time, Kamala Harris—now a favorite in the 2020 Democratic presidential primary—was California's Attorney general. Despite public outcry and growing unrest, her office did not conduct an independent investigation into the events of that Sunday nor into the events that followed.
It all began shortly before 4 p.m. Two Anaheim police officers, on patrol in the heavily hispanic neighborhood around the 700 block of North Anna Drive, received an anonymous tip that men were loitering in a nearby alley. They arrived on the scene to find 25-year-old Manuel Angel Diaz leaning into a car window. Suspecting a drug deal, the officers ordered everyone to stop what they were doing. Diaz took off running. Officer Nick Bennallack briefly gave chase before drawing his gun and fatally shooting the fleeing man as he turned to look behind him—once in the buttock and once in the back of the head. Bennallack would later testify in court that he saw Diaz throw an object he thought was a weapon, but only a cell phone was found nearby. As Diaz lay dying, the officers reportedly cuffed him and called for backup. They did not immediatelyadminister first aid. Diaz was later pronounced dead at the hospital.
Cell phone footage shows officers standing around Diaz's body
The shooting took place in the courtyard of an apartment complex and it wasn't long before a crowd of angry residents began to gather at the scene. A confrontation ensued, resulting in more violence. Protesters allegedly threw rocks and bottles at police and set a dumpster on fire. Police responded with pepper spray and non-lethal rounds.
The footage is difficult to watch. Screaming and sobbing can be heard as officers coolly aim their weapons into the crowd. A series of loud pops ring out as they fire. A police dog attacks a mother with her baby and bites a boy before an officer rushes over to control the animal. Police would later say that the dog's involvement was accidental and that it had escaped an unmanned cruiser.
Local press reported that officers had offered to buy cell phone videos of what had transpired from bystanders.
The next day, protests continued and Anaheim police officers killed another man, Joel Acevedo, during a foot chase. He too was shot in the back of the head. Acevedo's death marked the year's fifth police killing and the sixth police shooting.
That same day, Anaheim Mayor Tom Tait held a press conference at police department headquarters and called on Harris' office to conduct an investigation. "Transparency is essential," he said, promising that "whatever the truth is, we will own it." Angry protesters swarmed the lobby.
For a moment it did look like an independent investigation by the AG was imminent. A report from the New York Times on July 25 claimed Harris' office was indeed looking into the matter. However, there is evidence directly contradicting this claim—Paste contacted the Times, and an assistant in the Standards Department wrote the following: "We make every effort to correct errors when they are brought to our attention in a reasonable period of time. After that, I'm afraid, we do not alter them." A follow-up email requesting any evidence for the claim went unanswered. On the same day as the Times story, Reuters reported that the Orange County District Attorney's office was conducting the investigation into the shootings, and the Anaheim city council had voted to ask the U.S. Attorney and FBI to launch a probe, the findings of which would be reviewed by the AG's office.
Five days later, on July 30, activists delivered a petition to Harris' office with roughly 18,000 digital signatures, demanding that she conduct an independent investigation. A representative for her office told KABC that Harris intended to wait for the Orange County DA's office to conclude its investigation before deciding whether or not to look into the matter. Nothing came of it. A public information assistant with the Attorney General's office told Paste that there was no record of press releases related to any such investigation surrounding the Diaz killing. A subsequent formal public records request yielded nothing when the AG's office took an extension and then missed their own deadline. Harris' campaign did not respond to multiple requests for comment.
Ultimately, the Orange County DA would clear the officers of any wrongdoing, no charges would be filed, and nobody was fired. Even after that, Harris chose not to start an independent investigation. Officer Bennallack is, to this day, on the force. However, in 2017, a federal jury found that he had used excessive force and awarded Diaz's family $200,000 in damages.
The incidents left a lasting scar on the city. To rebuild public trust, the Anaheim Police Department implemented a series of reforms including the creation of the Chief's Neighborhood Advisory Council with representatives from 22 neighborhoods across the city who meet with the police chief and command staff monthly, a Homeless Outreach Team and Psychological Emergency Response Team (PERT), which has two mental health clinicians on staff. The Department also expanded its community policing teams and youth services detail.
"The Anaheim Police Department has worked really hard on building trust with the community following the events of 2012," spokesperson Sergeant Daron Wyatt told Paste over email.
Harris' inaction in these matters could be written off as not wanting to interfere with an ongoing investigation by the Orange County DA's office, but it's important to note that she didn't act even after that investigation concluded (and prompted another public outcry). Nor was this refusal an isolated incident; indeed, it was a feature of her time as AG. Although she did oversee the creation and implementation of an implicit bias and procedural justice training program for California law enforcement officers, she notably opposed legislation that would have required her office to independently investigate police shootings like the ones in Anaheim. She also spoke out against another proposal to mandate officer body cameras. "I as a general matter believe that we should invest in the ability of law enforcement leaders in specific regions and with their departments to use … discretion to figure out what technology they are going to adopt based on needs that they have and resources that they have," she explained.
For her campaign, Harris has leaned into her law enforcement background, characterizing herself as a "progressive prosecutor." But that record has proven problematic for some Democrats as more has come to light—particularly involving her truancy crackdown and her decision not to prosecute OneWest, the bank Trump's Treasury Secretary Steve Mnuchin owned during the financial crisis. Harris' failure to investigate the high profile acts of police violence in Anaheim is another troubling example of how her pursuit of justice apparently had limits.
Walker Bragman, February 28, 2019, "When Kamala Harris Turned a Blind Eye to Police Brutality", https://www.pastemagazine.com/articles/2019/02/they-shot-at-little-kids-too-when-kamala-harris-tu.html