Pittsburgh activist Leon Ford explains in his new book, Untold, how to get lifted up, and how to lift a city up, even after being shot by its police.
Leon Ford Jr. was in the hospital where and while his son was being born, but he wasn't able to see him. Ford's family was at the hospital for the baby's delivery, also, but they weren't able to see Ford. He was in an undisclosed wing recovering from getting shot by a Pittsburgh police officer on November 12, 2012.After doctors stabilized Ford, he was arraigned on charges of aggravated assault against a police officer. Ford was in convalescence for months, often handcuffed to his bed, through multiple surgeries, and with no guarantee that he would survive.

The night police shot Ford, an African American, he was pulled over by two officers who mistook him for a suspect with a similar name. Ford, 19 at the time, had complied with the officers' requests for his license, insurance, and registration. However, another police officer who was called to the scene, David Derbish, jumped into Ford's car while stopped, but with the engine still running, which is against Pittsburgh police protocol. The encounter ended with Ford's car crashed into someone's front porch a few yards away, and Ford arrested despite, as they'd later find out, a bullet piercing his spine.
He survived, though he can no longer walk. Ford was acquitted of charges that he had assaulted the police, and in January, a jury awarded Ford $5.5 million from his lawsuit against the city. But none of the police officers involved in Ford's shooting have been convicted for their role in it. Derbish is still on the force.There have been numerous high-profile police shootings and killings of African Americans around the U.S. in the years since Ford's ordeal. His case is one of the rare instances where an African American has survived a police shooting and obtained some measure of justice.

He's been working ever since, helping the victims of police violence and their families, and by giving speeches all over the country on how to improve police relations. In an era of fiery protests and uprisings, as seen in Baltimore and Ferguson, Ford is focused on continuing that energy into crafting more progressive laws and policies.  In an open letter to the city Ford wrote:
We have seen how young people are reacting to the negligence of police misconduct all over the country. On August 9, 2014 Michael Brown was tragically murdered by a Police Officer in Ferguson, Missouri. That led to civil unrest that was almost uncontainable. We saw the same reaction with the death of Freddie Gray, killed while in custody of Officers employed by the Baltimore PD. With the #JusticeforLeon Movement, I worked to prevent Pittsburgh from being the next Ferguson or Baltimore. Emotions ran high, but we kept the movement positive and inspirational to keep the city from following suit.  For this, I end up treated with scorn, not commended for loving courage.
It hasn't been all scorn, though. Last year the alt-weekly Pittsburgh City Paper, crowned Ford the "Pittsburgher of the Year" for his activism. He's also been invited to meet with celebrities, professional athletes, and tech titans in Silicon Valley to discuss police problems. Last month, Ford released his first book, Untold, with a foreword from native Pittsburgh novelist John Edgar Wideman. It doesn't go into great detail about his injury or the court trials. Instead, it focuses on his journey toward taming the pain and anger that built inside of him while he was recovering from the shooting.
In the heat of an uprising, when politics and emotions are running high, it's not hard to lose sight of the humanity of the victims who are being fought for. Ford has been reminding the public that beyond being a symbol of a movement, he's also someone's friend, nephew, son, and father. He was not able to see his son born, but his son has been a part of his life since he got out of the hospital, joining him at "almost every" protest and demonstration Ford has been involved in.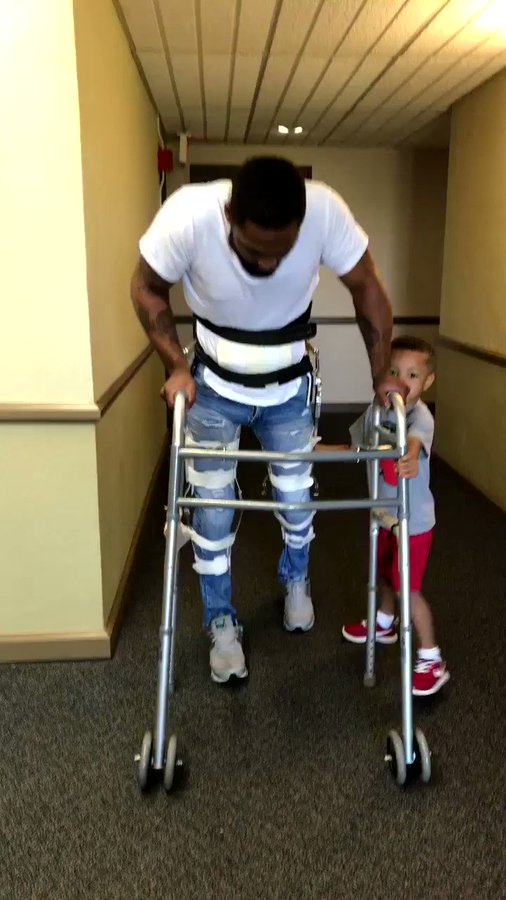 When you get shot by a police officer 5 times–and docs say that you will ever walk but your son says keep pushing Untold 11•11•17
CityLab spoke with Ford about his new book on improving policing, and being a change agent for his city:
How do you talk to your son about the police, particularly given what you've been through?I'm basically preparing a platform right now for him to decide what he wants to do with it later, because one thing that I don't want to do is put too much emphasis on "the talk"—like, preparing my son to get pulled over by a police officer. My mom and my dad did that for me, and I did everything they told me to do. But I still ended up shot. It doesn't work. "The talk" is not strength-based, it's really just a fear talk. I'm not trying to put fear in my son's heart. This is why I do the work that I do and this is why I'm not opposed to building relationships with police officers and people who are in positions of power. I'm working towards preparing the world for my son.

"The talk" should be more about: What does a prosperous community look like to you? When we continue to have these conversations around fear, then people will continue to run away from each other and step on each other. I don't want to build a community where people are stepping on each other. That's not a healthy community.

You did the photo shoot for your book cover at the site where police shot you. How difficult is it for you revisit that space?

It used to be a painful reminder, but now I just view my life differently. I've had that paradigm shift where, before, even thinking about the day that I was shot, that used to be super emotional. But now it's like a celebration because I could've lost my life on that block. However, I survived and so I view my life like a vessel to make people aware, to educate, and to inspire. And that's really empowering.
What's your relationship with Pittsburgh police like today?I'm still going through my healing process, and there's certain things that were done even after I was shot that I'm still dealing with psychologically, emotionally, and spiritually. Just the way that the city handled my case—I was fighting for six years and it's like being in the belly of the beast of a system that was designed to destroy me. It made me feel like I wasn't an American. The laws, the Constitution, and these documents that Americans praise—it felt like they didn't work for me.

What kind of documents do you mean?

Like the Declaration of Independence, you know, those type of documents. These are good ideas, but [this ordeal] made me question who they were written for. What I went through, it made me feel like America was this house, and, I felt like the dog in the backyard that's chained up all the time. You know? And kids come and pick on me and tease me and I get rained on—that's how I felt, you know what I mean? Being a young man feeling like that, it's like finally you get let out, they let you off the leash and you almost want to bite somebody. But gratefully, regardless of my circumstances, I realized that I was stronger than that, and just because someone else's moral compass was pointing in the wrong direction, that didn't mean that mine had to also.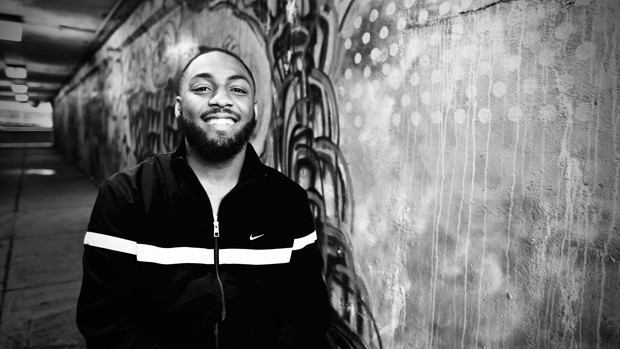 Is it hard pushing a message of compassion and forgiveness in such a suffocating climate for discussions around police and racism?
My message is to channel that anger into educating yourself. Educate yourself about the history of this country, and different policies at the local, state and federal levels. We're behind the ball because these people are changing policies and stripping our rights away every single day. If we let our emotions get the best of us, before we know it we ain't going to have any rights and they'll continue to do whatever that they want to us. But the more we educate ourselves, the more we can use the system that has been working against us, to make it work for us.I encourage young people to run for office. I meet a lot of young people who are fed up with police officers and go to college and don't know what they want to do in life. Well, if you don't want to go to work delivering furniture or working at Panera Bread, or you just don't like your job, then become a police officer. I think that's where activism meets mentorship, especially in our communities. I had a few football coaches growing up who were police officers, but I never viewed them as police officers because they were mentors in the community.

What are your plans now for creating the kind of change you want to see in the city of Pittsburgh?

I'm getting involved with real estate development and leveraging my platform and resources to provide affordable housing for people here in Pittsburgh. One of the problems that I see, especially here in Pittsburgh is access. A lot of young African-American men and women don't have access to resources to capital. There's a lot of great things happening in Pittsburgh, but if you go to [the neighborhoods of] Larimer, or Homewood, or East liberty and Garfield, they don't even know or understand what's happening. There's a disconnect there. So, I'm in a unique position right now to leverage my platform to give other people access so that they can understand things like: What does it really mean for Amazon to come to Pittsburgh?
I'm wondering as an entrepreneur, if Amazon is going to bring a lot of money to Pittsburgh, or, as an activist, what does that look like for the average household given what we've seen in Oakland, California and San Francisco? The average apartment rent has gone up to $2,500-$3,000 [in those cities] and that has the potential to happen in Pittsburgh. So, how are people going to afford to live within the city?Navigating the city from your vantage point now, what do you think Pittsburgh should prioritize for change?

Affordable housing policy. Also, accessibility. I love Pittsburgh, however Pittsburgh isn't as accessible as I want it to be. There are still buildings within the city that aren't really that handicap accessible.

Also police training. There's really an accountability issue. I think police officers should have to live within the city. That's a policy they recently changed that I think is just asinine. If you can drive an hour to go to work then you don't have to be a part of any of the repercussions from people living in a neighborhood where you're policing at. You don't really have a heart for the people.

I believe that [the police] should have mental health evaluations. A lot of them come from the Army, and being a police officer, you're sitting in a car for the majority of the day, not getting a lot of sleep because of the shifts that they put them. So police officers have very poor health, and there needs to be some changes within that structure. If police officers could be happier and healthier and more culturally competent that may help with some of these issues that we're having as well.

Brentin Mock , Citylab.com, "How to Survive a Police Shooting When You're Black", https://www.citylab.com/equity/2018/05/pittsburgh-police-shooting-survivor-wants-to-change-the-game/559493/