Philadelphia police officer Natasha Chestnut was seen in a 2017 video hitting the teen repeatedly while she was on the ground.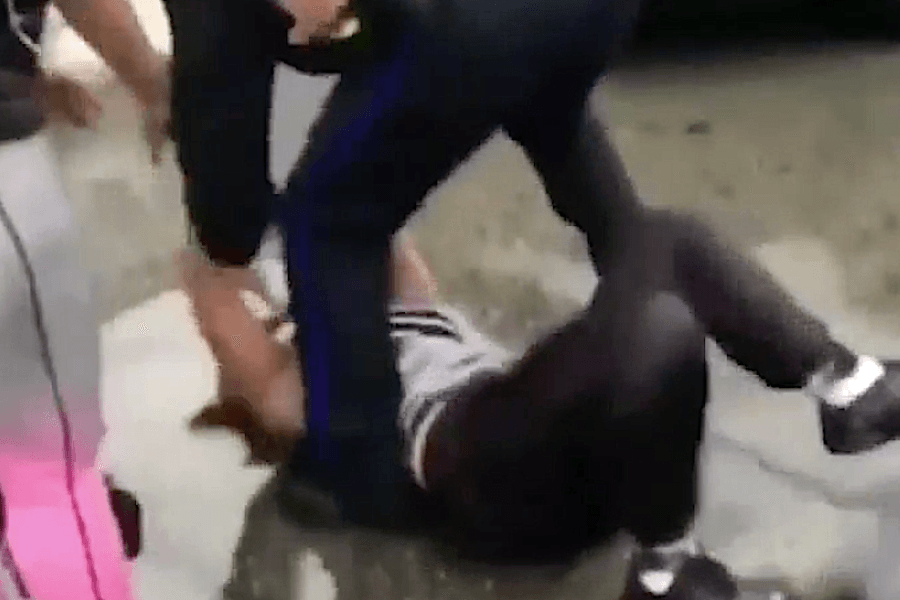 More than a year after a Philadelphia police officer was seen on video repeatedly hitting a teenage girl in West Philadelphia, the girl is now suing the cop and the city over the incident.
The 17-year-old girl and her father John Pendleton, both of Bryn Mawr, have filed a federal lawsuit against Philadelphia police officer Natasha Chestnut, accusing Chestnut of assault and battery, false arrest, and false imprisonment, among other offenses. (The girl's father has asked that we withhold her name.)
The events in question took place on January 3, 2017, when a street brawl broke out between two families and their friends.
Here is video of what went down between the girl and Chestnut, who can be seen hitting the girl repeatedly while she is on the ground:
And this video contains footage of that but also of what was happening prior to their interaction:
According to the lawsuit, the mother of the girl's friend was arrested on the scene. The girl says that she approached the cop and said that the woman had done nothing wrong. She claims that another cop came up to her at that point and stuck his baton in her face and told her to "back the fuck up." The girl says she told him that he had no right to do that.
That's when things quickly escalated.
She alleges that Chestnut grabbed her by the shoulders and then began pushing her. She says she told Chestnut to keep her hands off of her but that Chestnut responded by grabbing her by the hair, throwing her to the ground, and punching her over and over again in the face.
Then, claims the suit, Chestnut pulled her up by her hair and threw her into a police car, allegedly telling the girl, "Get your fucking leg in the car or I will punch you in the face again." The teen says that she complied but that Chestnut punched her in the face anyway, while she was handcuffed in the car.
The girl was originally charged with assault, but those charges were quickly dropped once video of the incident got out.
"It's just an ugly situation from start to finish," Philadelphia Police Commissioner Richard Ross told press at the time. "There's no denying that."
Ross claimed that the girl refused to comply with Chestnut's commands and that she admitted smacking Chestnut and knocking her glasses off of her face. He added that Internal Affairs would investigate the matter. Chestnut remains on the force.
In the suit, the girl insists that she did nothing wrong and that nothing she did could have been considered threatening to Chestnut or anyone else, for that matter. She says she sustained facial lacerations, a concussion and a shoulder injury.
"This is another troubling example of police officers ignoring their obligations under the Constitution and the oaths they take," says the girl's attorney, Patrick Geckle. "Thank God there was video or my client could be dealing with a felony on her record. Officer Chestnut's assault is bad enough, but to falsely charge this young lady with aggravated assault is even worse."
The suit seeks unspecified damages. The PPD did not immediately respond to a request for comment.
Read more at https://www.phillymag.com/news/2018/04/19/police-brutality-natasha-chestnut-philadelphia-police/#P3ILHsVwofQy5MR9.99
Victor Fiorillo· , "Main Line Girl Sues Philly Cop for Police Brutality", https://www.phillymag.com/news/2018/04/19/police-brutality-natasha-chestnut-philadelphia-police/#P3ILHsVwofQy5MR9.99