The killing of the 26-year-old, who is believed to have been unarmed, is being called a brutal case of excessive police force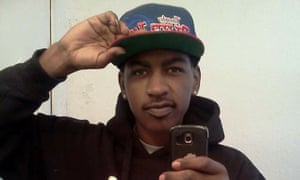 Lee Merritt, an attorney for the family, said Yarber, who was known by the nickname "Butchie", was not armed and that the car posed no danger to officers when they began spraying him with bullets.
"They saw a car full of black people sitting in front of a Walmart, and they decided that was suspicious," said Merritt. "They just began pouring bullets … It's irresponsible. It's dangerous. It's mind-boggling, the use of force."
A police spokeswoman said "involved officers" were on "paid administrative leave", but declined to disclose the number of bullets shot and officers who fired. Police labeled the incident an "assault" on an officer, but Dale Galipo, an attorney representing the 23-year-old woman hit in the car, said the investigation so far has revealed Yarber was unarmed and that officers were not in the path of the vehicle, which means they should never have discharged their weapons, let alone fire a barrage of bullets.
Galipo said his client was struck by at least two shots and suffered "serious injuries", adding, "She's still in a state of shock."
Yarber was also driving his cousin's car at the time, which was never reported stolen, said Aleta Yarber, Diante's aunt, who said she has since retrieved the car and that it did not appear it had rammed into police vehicles. Police did not respond to inquiries about the claims that Yarber was a car theft suspect.
Aleta's son was in the car at the time of the shooting, but the bullets missed him. In the weeks since, "He has not been able to say much of anything," she said. "It was very traumatizing."
Merritt said he believed Yarber was trying to shield others in the car from bullets when he was hit, adding that the 23-year-old woman in the back was initially placed in a police car and treated like a suspect before officers got her medical attention.
Ruby Hawkins, Yarber's sister, said local police often harassed her brother and that the officers should face criminal charges for killing him. "They are the biggest criminals. They are bullies with badges … I don't know how you can fear for your life with a person that is moving away from you."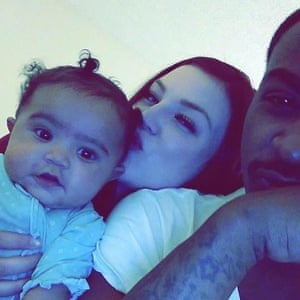 Hawkins, 40, said her brother had a job working at a warehouse and that she saw him the night before he was killed. "You see this all the time, but you never in a million years think you'll be the one crying about a loved one killed at the hands of police."
Training and policy dictates that police should not fire at moving vehicles, said Galipo, noting that these kinds of killings are avoidable and particularly dangerous. Last year, undercover police in Hayward, California, attempted to shoot a driver they were trying to arrest and instead killed a 16-year-old girl sitting in the passenger seat.
"It still doesn't even feel real. I wish I could just wake up and it would be a dream," said Chandler, adding it was difficult to imagine her daughter growing up without Yarber. Police probably targeted him because he was black, added Chandler, who is white: "They would've never drawn their guns on me."
Samantha Robledo, who has a seven-year-old daughter with Yarber, said she felt like police were trying to manufacture reasons to attack his character and justify the killing.
"He would always make you smile, no matter what," she added. "You couldn't be angry around him. He was so loving and friendly, and that's what we're going to miss the most."
Robledo said she has tried her best to help their daughter cope since his death. When they talk about her father now, the girl, Naliyah, says, "He's my angel now."