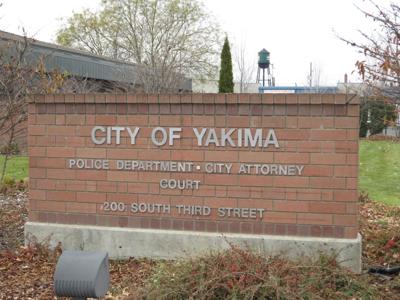 Yakima Police Department. (DONALD W. MEYERS/Yakima Herald-Republic)
Despite accepting a $500,000 settlement, the sister of a man shot and killed by a Yakima police officer in 2014 is disappointed the city of Yakima continues to not allow citizens a voice in improving police practices.
Among other requests in the suit, Lorena Arias wanted Yakima to establish a citizen review committee to investigate and discipline police officers for misconduct against citizens. If that wasn't possible, Arias suggested allowing the U.S. Department of Justice or another outside agency to monitor the department's training practices for five years.
But in paying out the half-million-dollar settlement, the city refused to consider Arias' suggestions, demonstrating its disregard for the input of citizens in these types of cases, her attorney said.
"My experience with the city of Yakima is, after a long, scorched earth case, they make an excuse and deny the claim and pretend like their officers did everything correct," said Yakima attorney Bill Pickett. "But they will ultimately move to a mediator and that person will sit down with both parties and try to come up with a resolution. I suspect they'll continue to claim they did everything right, but yet they'll pay half a million dollars. So I'll let that speak for itself."
City Attorney Jeff Cutter pointed out the Arias family could have not settled the case and continued to insist on the establishment of a citizen review committee, if that and other provisions were important. The settlement, approved by the Yakima City Council on Tuesday, was mutually agreed upon, he said.
The settlement — and fallout from it — highlight the controversy behind citizen review committees, or boards, that are generally well-received by citizens and advocates but typically not favorably viewed by police officers or their unions.
Citizen review committees first rose to popularity in the 1990s in response to increased police brutality, said Central Washington University law and justice professor Charles Reasons. The committees usually are comprised of residents who review complaints against police and offer a recommendation or a ruling on the complaint depending on their level of authority.
"Their major function is to give (citizens) some degree of separate authority … rather than the police policing themselves," Reasons said. "Allowing the public to have some involvement makes them happier … and enhances the image of police."
Reasons estimates more than 80 percent of major cities have some form of civilian review, but the number falls drastically when talking about smaller cities similar to Yakima — he couldn't name any in the state or nationwide offhand.
"There hasn't been the political movement and interest groups that have been successful in establishing them in smaller cities," he said.
In the Arias case, a committee likely wouldn't have helped much — that's because very few, if any, citizen review committees evaluate officer-involved shootings, Reasons said.
But Arias, in her case, maintains a citizen review committee would have provided an unbiased, truthful assessment of the case. Rocendo Arias, 23, was fatally shot during a late-night encounter with a Yakima police officer in January 2014. The shooting was ruled justified but questions remain whether the officer told the truth about the shooting.
While the family ultimately agreed to the settlement — in an effort to put the painful episode behind them — that acceptance should not be misconstrued as a lack of interest in seeing the city make policy changes that could eliminate, or decrease, future similar instances.
Yakima Police Chief Dominic Rizzi Jr. said he's open to the potential of establishing a citizen review committee. But, Rizzi said, such a committee likely isn't needed due to Washington's public records laws, which are favorable to citizens. State law allows citizens access to department documents involved in shootings, allowing them — and the media — to do their own semi-investigation and hold  police accountable, he said.
"The public has the ability to scrutinize everything we do," Rizzi said. "And the media gets ahold of everything and scrutinizes what we do. In a sense, we already have public oversight."
While Washington state law does allow citizens access to many public records, there are restrictions. Often, those restrictions allow government agencies, including law enforcement, to deny access to records. Some of the reasons for those denials include if an investigation is open or if there is pending litigation.
Rizzi said the department is working with other area law enforcement agencies to create a special incident response team for officer-involved shootings.
Local agencies would be able — but not required — to request that the team investigate its officer-involved shootings. Among many benefits, the team, which would have a Sunnyside police captain at the helm, would help agencies better manage manpower resources devoted to investigations, which can be time-consuming and keep detectives from focusing on other work.