Eighteen-year-old was not close enough to officer Stephen Rankin to pose a threat, says family lawyer, as report shows he was subsequently handcuffed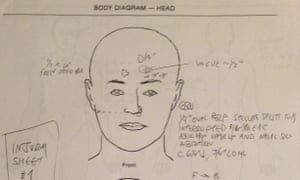 This may be answered conclusively by surveillance footage recorded inside the store that was collected by investigators. The shooting itself, which took place just inside the perimeter of the large parking lot, close to the street, is understood not to have been captured on camera.
An inquiry into the shooting has been completed by Virginia state police and passed to Stephanie Morales, the Virginia commonwealth's attorney for Portsmouth. The prosecutor also commissioned "additional investigative work" and tests by the state department of forensic science, according to Tamara Shewmake, a spokeswoman for the prosecutor.
The spokeswoman said earlier this week that following a delay, Morales expected to have received all the forensic files by Friday 21 August.
"Once all findings have been turned over to the commonwealth's attorney, there will be a review and final prosecutorial determination," Shewmake said.
Sources familiar with the inquiry said the week-long delay was due to Morales commissioning an advanced type of forensic analysis that had never before been completed by Virginia state officials.
The sources said Morales, who is 31 and newly elected earlier this year, had no intention of passing the case to an outside jurisdiction or special prosecutor, and that she had indicated she would present the case to a grand jury within Portsmouth, which is an independent city, if she decided to prosecute Rankin.
Portsmouth police and Virginia state police still decline to confirm Rankin was the officer who shot Chapman. His identity was confirmed to the Guardian by Sean McGowan, the executive director of the Virginia Police Benevolent Association, Rankin's union.
Once Rankin's name was published, McGowan denied he had confirmed it, then suggested he had not been authorised to confirm it, then said he would never again speak to a reporter from the newspaper. McGowan has refused to identify Rankin's attorney or an alternative representative.
Rankin, 36, is a veteran of the US navy who earned a grey belt in the the Marine Corps martial arts programme, which requires the ability to "stop an aggressor's attack" with hand-to-hand combat.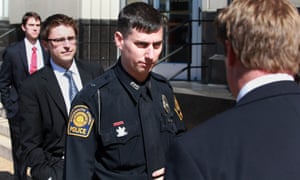 The officer was placed on administrative leave after shooting Chapman. In April 2011 he fatally shot Kirill Denyakin, a Kazakh cook, less than three miles from the site of Chapman's death. Denyakin was shot 11 times by Rankin, who was responding to a 911 call about the 26-year-old aggressively banging at the door of a building where he was staying.
Rankin said he shot Denyakin because the cook, who was drunk, charged at him while reaching into the waistband of his jeans. The officer said he feared Denyakin would pull out a weapon. No weapon was found.
A grand jury declined to indict Rankin on criminal charges and a jury in a $22m civil lawsuit brought by Denyakin's family found in Rankin's favour.
Among 250 posts defending himself on a local newspaper website, Rankin wrote: "22 mil wont buy your boy back," adding that most Americans could not hope to earn that in an entire career, "let alone a habitual drunk working as a hotel cook".
The standfirst of this story was amended on 24 August 2015 to make clearer that William Chapman was handcuffed after he was shot.
Jon Swaine, "Autopsy indicates officer shot unarmed teen William Chapman from distance", The Guardian, Monday 24 August 2015, http://www.theguardian.com/us-news/2015/aug/24/william-chapman-autopsy-stephen-rankin-police-shooting-virginia?CMP=share_btn_tw